How to Apply NITDA-Cisco Cyber Security Training Program 2023
How to Apply NITDA-Cisco Cyber Security Training Program 2023
The NITDA-Cisco Cyber Security Training Program 2023 is now accepting applications. What you need to know about the program is provided here.
NITDA and Cisco are seeking applications from Nigerians who have the necessary qualifications and are interested in enrolling in the Cyber Securiy Training Program.
Participants in the workshop, which is intended to recognize Cyber Awareness Month, will learn about offensive cybersecurity risks and vulnerabilities as well as the value of safeguarding our online presence.
The workshop will educate participants on the best global practices for protecting personal data from cybercrimes and increase awareness of the importance of digital security.
The curriculum for this year will center on four areas of cybersecurity, including:
Cyber Threat Management.
Network Defense
Endpoint Security
Ethical Hacker
The NITDA-Cisco Cybersecurity Training Program 2023's main goal is to raise awareness of ways to protect our online privacy and stop cybersecurity incidents.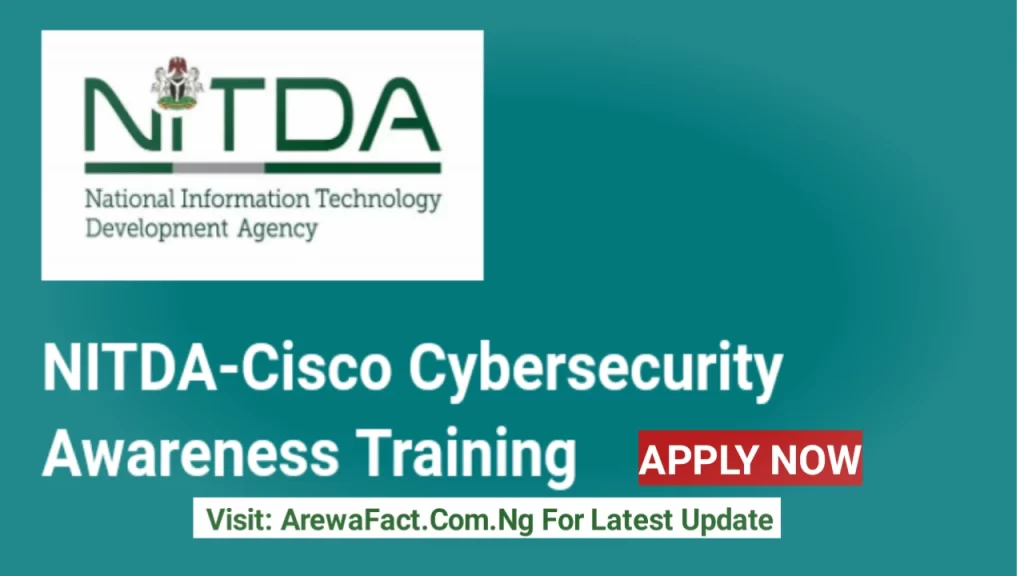 In line with the national goal of 70% digital literacy by 2027 stated in the Strategic Plan document released by the Federal Ministry of Communications, the National Information Technology Development Agency (NITDA) is collaborating with Cisco to observe Cybersecurity Awareness Month and educate Nigerians on the significance of protecting personal data from all types of cybercrimes, according to NITDA on their Twitter account.
Registration ends on October 15, 2023.
Training begins: October 18, 2023
2023 NITDA-Cisco Cybersecurity Training Program Objectives
Ensure efficient sector regulation by creating standards and directives to strengthen Nigeria's cybersecurity robustness;
Inform all Nigerians on appropriate online behavior;
Make sure Nigeria has systems in place to develop a massive human capability to protect our cyberspace and launch offensive operations when necessary;
Ensure that Nigeria receives a higher ranking in global indexes.
computer security