Vitalvida Company Opened Recruitment 2023 People With Diploma, NCE, HND, BSc, BEd, BA, or Masters Holders Can Apply
Vitalvida Company Opened Recruitment 2023 People With Diploma, NCE, HND, BSc, BEd, BA, or Masters Holders Can Apply
Vitalvida Company Open Site Recruitment Services as many people know Vitalvida is one of the largest e-commerce companies operating in Nigeria, especially in Lagos. We have good news for you about job opportunities from Vitalvida Company.
Vitalvida is trying to confirm happy partners for sustainable business, where they have now opened a recruitment page for young people with Diploma, NCE, HND, BSc, BEd, BA, or Masters.
Join Our WhatsApp Channel For More Latest Update, If You Are Interested Click This Link To Follow Arewa Fact channel on WhatsApp: https://whatsapp.com/channel/0029VaBMkUbLo4he5oLyta1X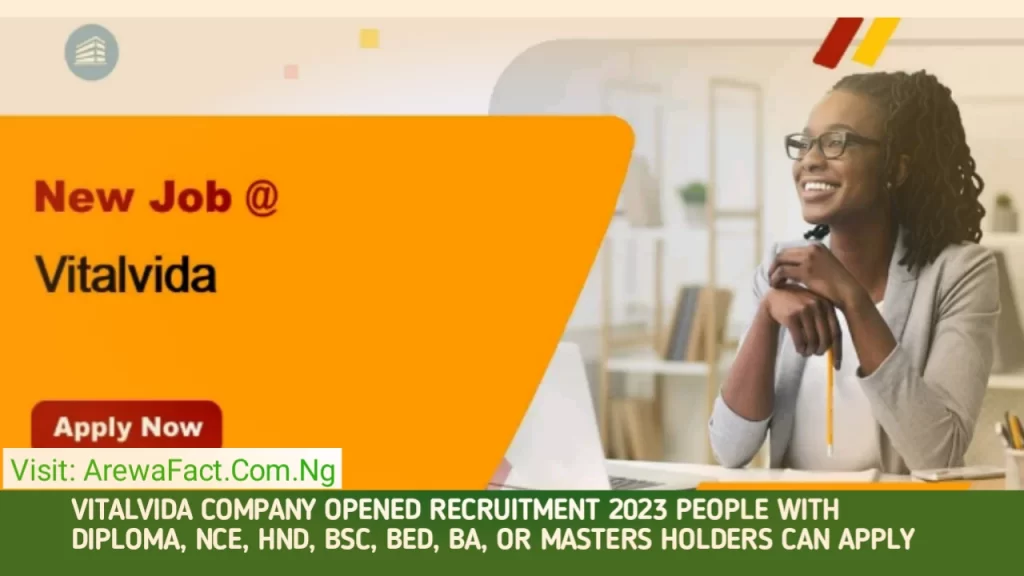 Vitalvida Company Jobs List:
Facebook Ads Expert at Vitalvida: As a Facebook.
Vitalvida Facebook ads expert link to apply: https://www.myjobmag.com/apply-now/603749
FCSC Recruitment
FRSC Recruitment
EFCC Recruitment
CBN Recruitment
NAFDAC Recruitment
NNPC Recruitment
NDLEA Recruitment
Fire Service Recruitment
Nigerian Navy Recruitment
Civil Defence Recruitment
Nigerian Air Force Recruitment
Nigerian Army Recruitment
Nigeria Police Recruitment
Nigeria Customs Recruitment
DSS Recruitment